2D
360 Video – a Type of VR content
VR Digital Creation Tools
Digital VR
VR + Fitness
4G/5G
2D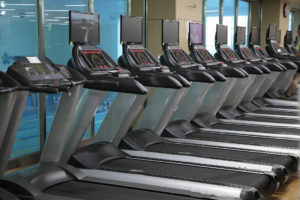 Monitor/screens that range in size from a tablet to a large projection on a wall, set facing forward to a User has been available globally for some time.
The content that is delivered is  static video or digital.
The distractions of the physical space is still a part of and can infringe on the Users overall experience, i.e., you are still in the room with the people and everything else going on around you.
Combined with the visual and technical limitation and low to nil interactivity this technology can provide, the absence of realistic and/or dynamic immersive experience – that feeling like you are in the experience and the environment is interacting according to you, is about as real to the User as you would expect.
360 Video – a Type of VR content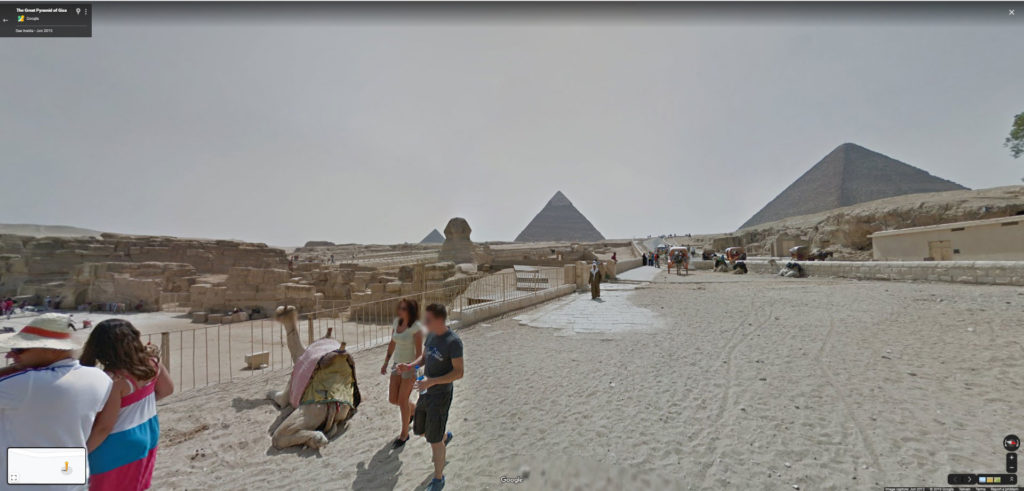 360 video has its place in terms of VR content.  Content that would be captivating for a Fitness User is quite high.
360 allows a level of immersion, no longer are you watching the screen you are now in within it.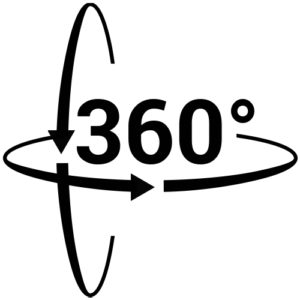 This opens up many places for Users to explore, people whom might not get to go to these places, or who then may inspired to visit these places.
Doing a cardio work out over a lunch break, the User can come away and be excited that they went for a run alongside the Pyramids of Giza, which is aligned with their fitness level and captured as part of their fitness goals.
360 video is a series of many photos, stitched together then runs as a film.
Photos are static in nature. If you can imagine them being on a time line and as you move along that time line within an experience, so do the photos. The visual capture and delivery of 360 video can be really quite high, as in HD (High Definition), so visually combined with 360 degrees can be exceptional good content.
There is a sense of being in the experience, in that snapshot in time.
However… the birds flying in the sky… people captured within the image…, they are a part of the snapshot in time of each image and in-experience interactivity is low.
You can only ever be standing in the place that each "photo" is taken from, including not able to move closer to or away from objects spatially, unless the experience has been built to cater and deliver this.

So the fluid and dynamic movement is generally not possible.  It can be achieved with MR (Mixed Reality) technologies, i.e., the overlaying of digital assets on to static environments.
Being able to explore new environments, different times, different places and even different worlds is appealing to a User.  This has its place as great content that is deliverable for fitness and health goal purposes.
VR Digital Creation Tools
The most popular digital tools available for VR content creation are the Unreal Engine and Unity. The capability of these tools is that they offer realistic visuals and superior AI (Artificial Intelligence) interactions, they have been used to create both games and CGI in film for many years.
So a natural progression of those decades of development and refinement are a real prize to the underlying foundation for Virtual Reality content.  And timely in the technology time line of VR hardware.
The capabilities of these digital tools are exceptional and critical to offering realistic dynamic interactivity that you would expect of from VR.
Digital VR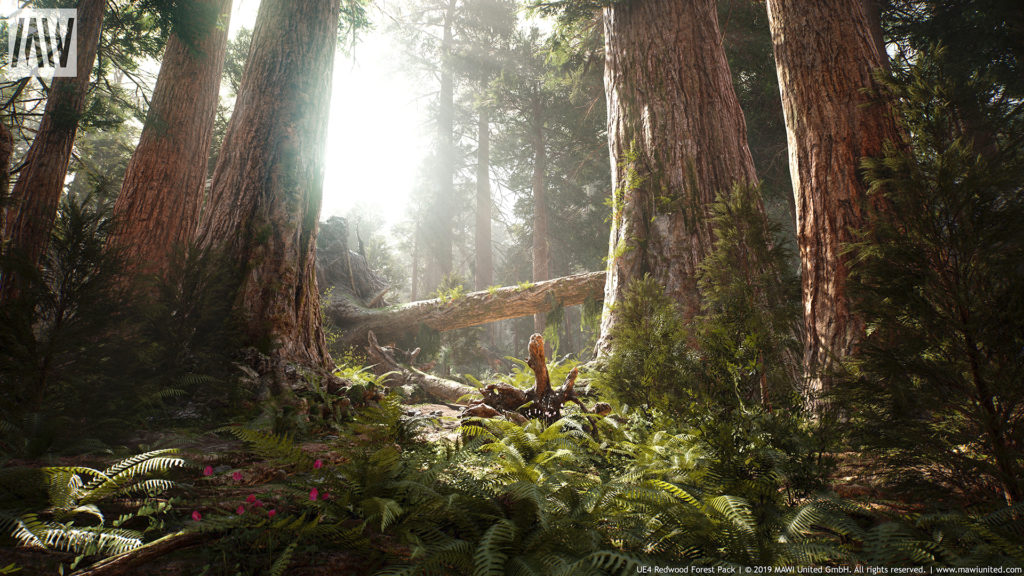 (source)
When you put on a VR headset and experience a proper digital experience, the feeling and immersion of being of somewhere else, the fluidity and the dynamic interaction – that basis, when delivered with exceptional visual content (assets) done right, it is impressive.
Users can be unsure whether the content is actually real life or digitally created. This is what exists now and this is and can be delivered.
As for content that should not look real, there will always be a market for this also. Cartoons and Anime have a large market, so being able to fulfill this preference and similar is also deliverable.
The ability to provide real interactivity;
such as in-experience characters

such as a coach, cheer leader, another User,…

each whom can recognize the User

the actions a User takes, and then responds accordingly

including motion and voice commands
…..these are just some parts of AI that can be incorporated.
To AI that now starts to learn from each user… (another topic for another day).
We can add varying levels of interactivity, often referred to as gamification such as, offering alternative choices to the User and outcomes that are relevant.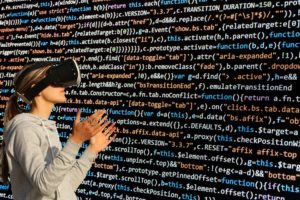 Depending which experience a User chooses for their workout, whether that is running on an orbiting space station whilst an epic space battle is going on around them and a Supernova occurring at that time; to Medieval times and coming to a cross road, a choice of pathways and bridges that involve trying to avoid or out run a Troll; to a more sedate country road on a summers day, where they skies are (always) blue, with the birds and bees busy doing their thing in that world for a peaceful nature based run.
Content is an Art form, Art comes in many forms.
Being able to immerse a User into a story and take them on a journey is also an integral part of content, when these things align, the whole experience works.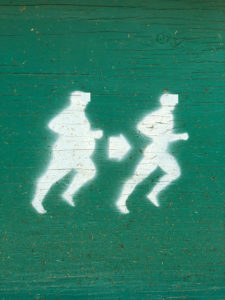 When competition and leader boards are options for a User to engage with, these are further features to keep Users engaged.  Then the real world benefits of improved health and physical appearance also feed into continuing engagement.
Whatever a User decides to do, it will be built within a fitness framework that ensures they are meeting and able to report on their fitness goals, time will certainly pass quickly.
… And likely leave a User thinking about picking a different pathway next time they run that experience again. (For bespoke marketing solutions, click here).
VR + Fitness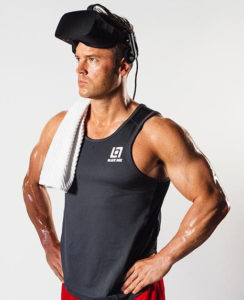 It is about getting people excited about exercising, keeping them engaged and coming back for more, a win win situation.  Furthering the value added for engaged Users getting real benefits and results to their health and fitness.

With a range of VR content genres to suit many, such as Adventure, Exploration, Fantasy, Horror, Mazes, Treks, Sprints,.. to name but a few, with varied levels of interactivity and gamification.
Having a seamless union of technologies tailored to differing fitness levels serves to deliver immersive and engaging workouts – this is what MOTIVE™ can deliver.
Quote
"Anything that takes a person away from thinking about exercising is a winner, this technology is exciting, I can see a big demand for this"
Dan S. | Personal Trainer for Les Mills
4G/5G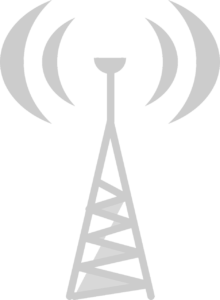 A lot of the content that runs on VR headsets can also run on VR capable Smart Phones – which incidentally we have also done with Motives technology and we can showcase here and here, working with one of the big brand VR smart phones.
Whilst we can already run with 4G, we are excited about the bigger new exiting pathways that 5G will bring, and it allows Motive to apply the next level of innovative technology !
Brand Experiences on MOTIVE™ Technology
E MOTIVE™ is the design innovation agency of MOTIVE Realities for custom built marketing solutions.
E MOTIVE™ provides services for creating and delivering immersive and engaging motion based Virtual Reality experiences built with MOTIVE™ Technology and People, click here.